How To Find Your Public IP Address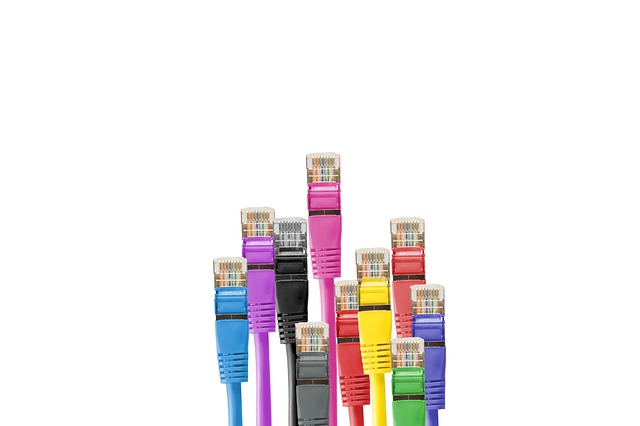 You may need this if you are setting up DDNS or something else. Doing this is quite simple, I'm assuming you have internet…because, why would you want it in the first place?
To find your Public IP address I will only list 2 of the easiest ways, here'show to find your public IP address.
Option 1.
In google, type "whats my ip". Google will quickly show you your Public IP Address: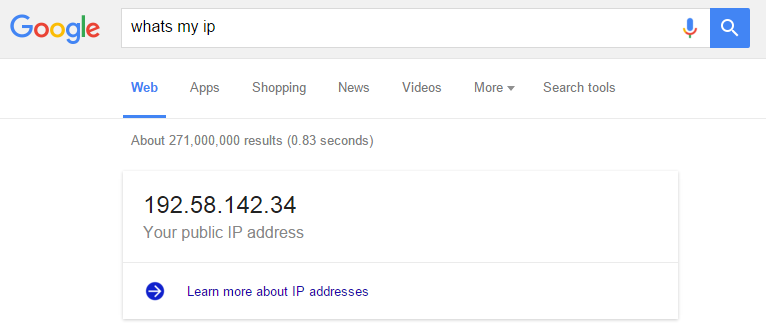 Option 2.
Head over to http://www.whatsmyip.org/ your IP address will be shown to the top of the page along with some other information about your browser and such:

---
Want to find your Local IP Address (LAN IP)? I have written a tut on how located here:
How To Find Your Public IP Address

https://tutbakery.com/how-to-find-your-public-ip-address/

https://tutbakery.com/wp-content/uploads/2015/11/network-cables-494654_640.jpg

https://tutbakery.com/wp-content/uploads/2015/11/network-cables-494654_640-150x150.jpg

Computer Engineering

Intermediate

You may need this if you are setting up DDNS or something else. Doing this is quite simple, I'm assuming you have internet...because, why would you want it in the first place? To find your Public IP address I will only list 2 of the easiest ways, here'show to find...

<img class="alignnone" src="http://res.cloudinary.com/tutbakery/image/upload/v1447596346/randoms/network-cables-494654_640.jpg" alt="How To Find Your Public IP Address" width="640" height="426" /> You may need this if you are setting up DDNS or something else. Doing this is quite simple, I'm assuming you have internet...because, why would you want it in the first place? To find your Public IP address I will only list 2 of the easiest ways, here'show to find your public IP address. <h1>Option 1.</h1> In google, type "<em>whats my ip</em>". Google will quickly show you your Public IP Address: <img class="alignnone" src="http://res.cloudinary.com/tutbakery/image/upload/v1447595819/randoms/publicipgoogle.png" alt="How To Find Your Public IP Address" width="766" height="325" /> <h1>Option 2.</h1> Head over to <a href="http://www.whatsmyip.org/" target="_blank">http://www.whatsmyip.org/</a> your IP address will be shown to the top of the page along with some other information about your browser and such: <img class="alignnone" src="http://res.cloudinary.com/tutbakery/image/upload/v1447596008/randoms/whatsmyip.png" alt="How To Find Your Public IP Address" width="1167" height="335" /> <hr /> Want to find your Local IP Address (LAN IP)? I have written a tut on how <a href="http://tutbakery.com/how-to-find-your-local-computer-ip-address/">located here</a>:

Uriahs

Victor

uriahs.victor@gmail.com

Administrator

I love cake...find my rumblings and other stuff at uriahsvictor.com

TutBakery