How To Export And Import Google Chrome Bookmarks
Exporting Bookmarks
Step 1.
Click the "Hamburger Bar" to the top right of your Google Chrome, icon to the furthest right of your extensions. Hover over "Bookmarks" and select "Bookmark Manager":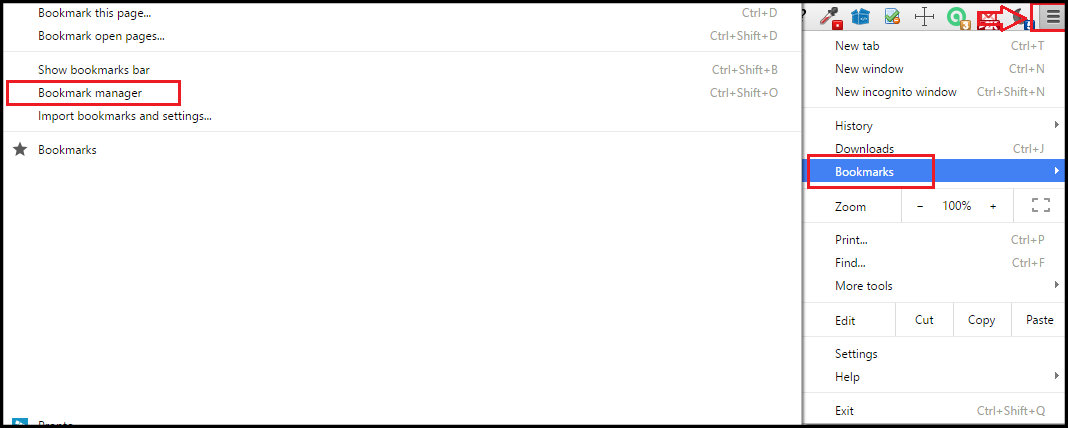 Step 2.
The next page will display all your bookmarks and bookmark folders. Click on the bookmarks/bookmark folders you want to export. Exporting a folder will also export all child folders under that parent. After you have selected folder you want to export, click the "Organize" drop down and select "Export bookmarks to HTML file…":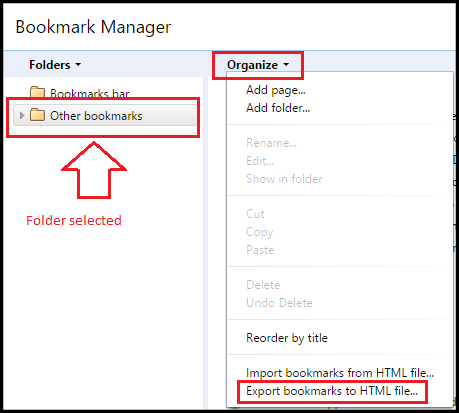 Step 3.
A window will pop up which you can use to specify where you want to save the bookmarks file as well as what you want to name it.
Importing Bookmarks
To import Google Chrome Bookmarks follow Step 1. When you are on the Bookmark Manager, this time click "Import bookmarks from HTML file…". Navigate to where you have the bookmark html file stored and click ok to start importing.
Alternatively you can click "Import bookmarks and settings…" after hovering over "bookmarks" from the options: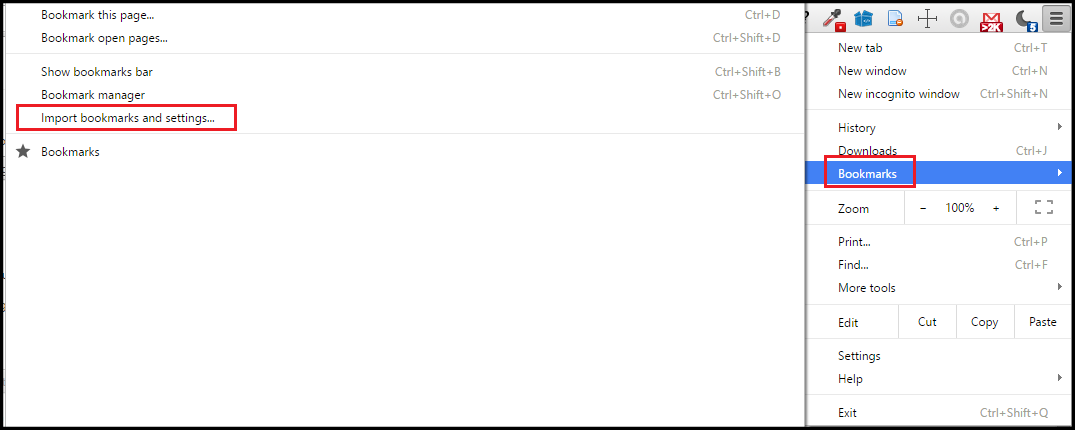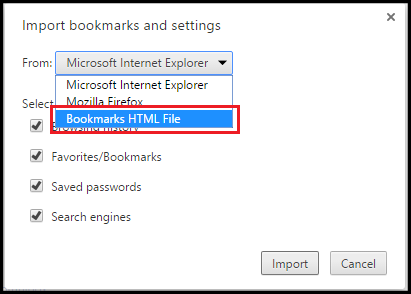 How To Export And Import Google Chrome Bookmarks

https://tutbakery.com/how-to-export-and-import-google-chrome-bookmarks/

https://res.cloudinary.com/tutbakery/image/upload/v1450193515/exporting%20Google%20Chrome%20bookmarks/folder-1049826_640.jpg

https://res.cloudinary.com/tutbakery/image/upload/c_crop,h_426,w_426,x_107,y_0/h_150,w_150/v1450193515/exporting%20Google%20Chrome%20bookmarks/folder-1049826_640.jpg

Computer Engineering

Beginner

Exporting Bookmarks Step 1. Click the 'Hamburger Bar' to the top right of your Google Chrome, icon to the furthest right of your extensions. Hover over 'Bookmarks' and select 'Bookmark Manager': Step 2. The next page will display all your bookmarks and bookmark folders. Click on the bookmarks/bookmark folders you want to export....

<h1><strong><span style="text-decoration: underline;">Exporting Bookmarks</span></strong></h1> <h1>Step 1.</h1> Click the "Hamburger Bar" to the top right of your Google Chrome, icon to the furthest right of your extensions. Hover over "Bookmarks" and select "Bookmark Manager": <img class="alignnone wp-image-355" src="http://res.cloudinary.com/tutbakery/image/upload/bo_3px_solid_rgb:000/v1450188038/exporting%20Google%20Chrome%20bookmarks/bookmark_manager.png" alt="How To Export And Import Google Chrome Bookmarks" width="1068" height="428" /> <h1>Step 2.</h1> The next page will display all your bookmarks and bookmark folders. Click on the bookmarks/bookmark folders you want to export. Exporting a folder will also export all child folders under that parent. After you have selected folder you want to export, click the "Organize" drop down and select "Export bookmarks to HTML file...": <img class="alignnone wp-image-357" src="http://res.cloudinary.com/tutbakery/image/upload/bo_3px_solid_rgb:000/v1450188557/exporting%20Google%20Chrome%20bookmarks/exporting.png" alt="How To Export And Import Google Chrome Bookmarks" width="459" height="413" /> <h1>Step 3.</h1> A window will pop up which you can use to specify where you want to save the bookmarks file as well as what you want to name it. <h1><strong><span style="text-decoration: underline;">Importing Bookmarks</span></strong></h1> To import Google Chrome Bookmarks follow <em>Step 1.</em> When you are on the Bookmark Manager, this time click "Import bookmarks from HTML file...". Navigate to where you have the bookmark html file stored and click ok to start importing. Alternatively you can click "Import bookmarks and settings..." after hovering over "bookmarks" from the options: <img class="alignnone wp-image-359" src="http://res.cloudinary.com/tutbakery/image/upload/bo_3px_solid_rgb:000/v1450193189/exporting%20Google%20Chrome%20bookmarks/importing.png" alt="How To Export And Import Google Chrome Bookmarks" width="1069" height="424" /> <img class="alignnone wp-image-360" src="http://res.cloudinary.com/tutbakery/image/upload/bo_3px_solid_rgb:000/v1450193189/exporting%20Google%20Chrome%20bookmarks/importing2.png" alt="How To Export And Import Google Chrome Bookmarks" width="411" height="294" /> <img class="alignnone wp-image-361" src="http://res.cloudinary.com/tutbakery/image/upload/bo_3px_solid_rgb:000/v1450193188/exporting%20Google%20Chrome%20bookmarks/importing3.png" alt="How To Export And Import Google Chrome Bookmarks" width="406" height="204" />

Uriahs

Victor

uriahs.victor@gmail.com

Administrator

I love cake...find my rumblings and other stuff at uriahsvictor.com

TutBakery