How To Easily Install WordPress On Your Local Machine
Installing WordPress on your local machine comes with many advantages. For one, you can test out any plugin before you install it on your live website,  another reason is that you can basically have an exact copy of your website running on your local machine which you can perform various tests on the database and what not.
Well, lets get right into it.
What you will need:
EasyPHP (Windows)
Since I use Windows to code (so what? I develop in .NET also 😛 ). I will go through doing this for Windows, if you're on Mac you can check out this tutorial.
Step 1.
Download your copy of WordPress and then unzip to your desired directory.
Step 2.
Download and install EasyPHP, it's a simple install.
Step 3.
Start up EasyPHP and make sure both Apache and MySQL is started: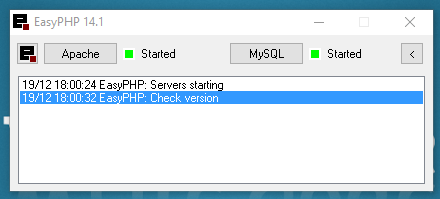 How To Easily Install WordPress On Your Local Machine

https://tutbakery.com/how-to-easily-install-wordpress-on-your-local-machine/

https://res.cloudinary.com/tutbakery/image/upload/v1450632968/Install%20wordpress%20on%20local%20machine/hunger-413685_640.jpg

https://res.cloudinary.com/tutbakery/image/upload/c_crop,h_426,w_426,x_107,y_0/h_150,w_150/v1450632968/Install%20wordpress%20on%20local%20machine/hunger-413685_640.jpg

WordPress

Installing WordPress on your local machine comes with many advantages. For one, you can test out any plugin before you install it on your live website,  another reason is that you can basically have an exact copy of your website running on your local machine which you can perform...

Installing WordPress on your local machine comes with many advantages. For one, you can test out any plugin before you install it on your live website,  another reason is that you can basically have an exact copy of your website running on your local machine which you can perform various tests on the database and what not. Well, lets get right into it. What you will need: <ol> <li><a href="http://tutbakery.com/simplest-php-developer-environment-windows/" target="_blank">EasyPHP</a> (Windows)</li> <li><a href="http://www.wordpress.org" target="_blank">A copy of WordPress </a></li> </ol> Since I use Windows to code (so what? I develop in .NET also 😛 ). I will go through doing this for Windows, if you're on Mac you can check out <a href="http://skillcrush.com/2015/04/14/install-wordpress-mac/" target="_blank">this tutorial</a>. <h1>Step 1.</h1> Download your copy of WordPress and then unzip to your desired directory. <h1>Step 2.</h1> Download and install EasyPHP, it's a simple install. <h1>Step 3.</h1> Start up EasyPHP and make sure both Apache and MySQL is started: <img class="alignnone wp-image-408" src="http://res.cloudinary.com/tutbakery/image/upload/v1450564476/Install%20wordpress%20on%20local%20machine/easyphp.png" alt="How To Easily Install WordPress On Your Local Machine- EasyPHP" width="440" height="199" />

Uriahs

Victor

uriahs.victor@gmail.com

Administrator

I love cake...find my rumblings and other stuff at uriahsvictor.com

TutBakery