Add Custom Tweet Click Boxes to Your WordPress Website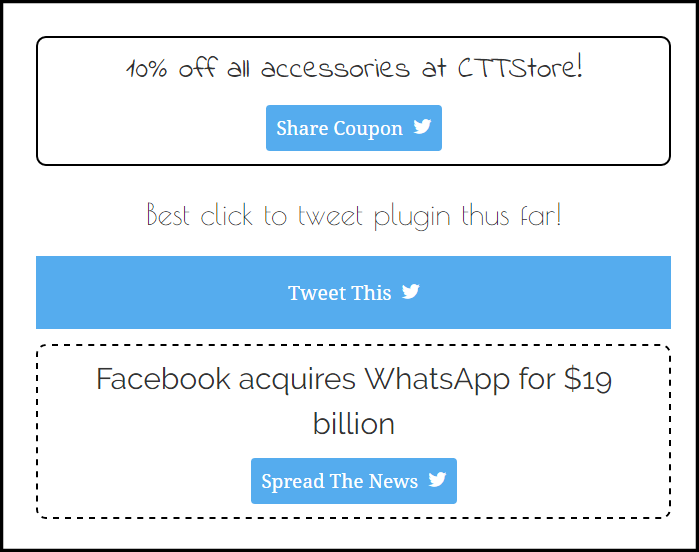 Do you find yourself writing lots of blog posts with phrases or punch lines you wish users could easily share with their followers? You might be missing out on lots of views if you are not using a click to tweet plugin.
There are many Click to Tweet plugins in the WordPress Directory which allow you to add simple click-to-tweet boxes to your website.
Cool right? There is lots of customization by default for the plugin and more to come soon, Oh yeah, it was created by me. I plan to keep developing this plugin so do not hesitate to install it and try it out. Please also don't hesitate to share feature requests as well as ideas for new templates!
I believe this is by far the best click to tweet plugin for WordPress.
Here's a quick demo of the plugin:
Add Custom Tweet Click Boxes to Your WordPress Website

https://tutbakery.com/add-custom-tweet-click-boxes-wordpress-website/

https://res.cloudinary.com/tutbakery/image/upload/bo_3px_solid_rgb:000/v1475693280/Thumbnails/screenshort-3.png

https://res.cloudinary.com/tutbakery/image/upload/bo_3px_solid_rgb:000/c_crop,h_552,w_552,x_73,y_0/h_150,w_150/v1475693280/Thumbnails/screenshort-3.png

Plugins

Tips & Tricks

Do you find yourself writing lots of blog posts with phrases or punch lines you wish users could easily share with their followers? You might be missing out on lots of views if you are not using a click to tweet plugin. There are many Click to Tweet plugins in the...

<img class="alignnone wp-image-607" src="https://res.cloudinary.com/tutbakery/image/upload/bo_3px_solid_rgb:000/v1475693280/Thumbnails/screenshort-3.png" width="699" height="552" /> Do you find yourself writing lots of blog posts with phrases or punch lines you wish users could easily share with their followers? You might be missing out on lots of views if you are not using a click to tweet plugin. There are many Click to Tweet plugins in the WordPress Directory which allow you to add simple click-to-tweet boxes to your website. Cool right? There is lots of customization by default for the plugin and more to come soon, Oh yeah, it was created by me. I plan to keep developing this plugin so do not hesitate to install it and try it out. Please also don't hesitate to share feature requests as well as ideas for new templates! I believe this is by far the best click to tweet plugin for WordPress. <a href="https://tutbakery.com/go/awesome-click-tweet-plugin/">Download it from here!</a> <em>Here's a quick demo of the plugin:</em> <iframe src="https://www.youtube.com/embed/O5qip_FdjBo" width="560" height="315" frameborder="0" allowfullscreen="allowfullscreen"></iframe>

Uriahs

Victor

uriahs.victor@gmail.com

Administrator

I love cake...find my rumblings and other stuff at uriahsvictor.com

TutBakery